What is Pressure Washing?
Pressure washing might be a term you will hear quite often if you are looking for building maintenance requirements. Well, it is an efficient technique to remove oil, gum, dirt, algae, etc. from residential or commercial buildings. Besides the building maintenance, people also use it before the exterior painting is applied to make sure that the fresh paint sticks to the surface properly.
If you want similar services for your building, then Alex Paint and Stain of Huntsville, AL, can make your dream come true. We will ensure the building's visual attraction remains top-notch at all times if you put your faith in us. Moreover, our services will gear towards preserving the current beauty of your building while providing protection to the outer layer so that it can withstand the test of time.
Pressure washing company near me
Our experts are all ready to provide you with the best pressure washing services in Huntsville, AL. After we are done with the work, you will be able to notice the difference, and it is guaranteed that you will definitely be satisfied.

Since we are using very powerful machines that will be handled by professionals, we can ensure that your properties will remain unharmed. If you are also looking for a pressure washing driveway, we can also do that for you.
When it comes to pressure washing a deck, we take the task very seriously and clean the debris with full potency. Plus, we are very renowned for our work, and in the list of pressure washing Huntsville AL, you can find our name among the most popular, all thanks to our satisfied and loyal customers.
Whether it is for your business or home, you can completely rely on Alex Paint and Stain, and you won't be disappointed with the end result!
We provide services to different areas like: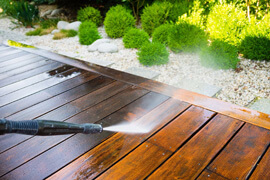 · Patio
· Siding
· Curbs and parking
· Sidewalks
· Driveway
· Deck
· Commercial
· Residential
Type of Pressure Washing
We provide different types of pressure washing. Our power washing services are in high demand, as well as soft washing.
Power washing
This type of washing uses heated water that runs at high pressure. Due to the waters' high temperature, the cleaning process becomes more deep and effective. It is very suitable for commercial purposes as well as exterior cleaning tasks.
Soft washing
Soft washing runs at low pressure and is highly suitable for roof, house, and storefront cleaning. It is highly recommended that you do this washing every year (at least once) for getting a long-lasting result.
Pressure Washing Gallery